Singapore Headquarters Holding Group Organization Chart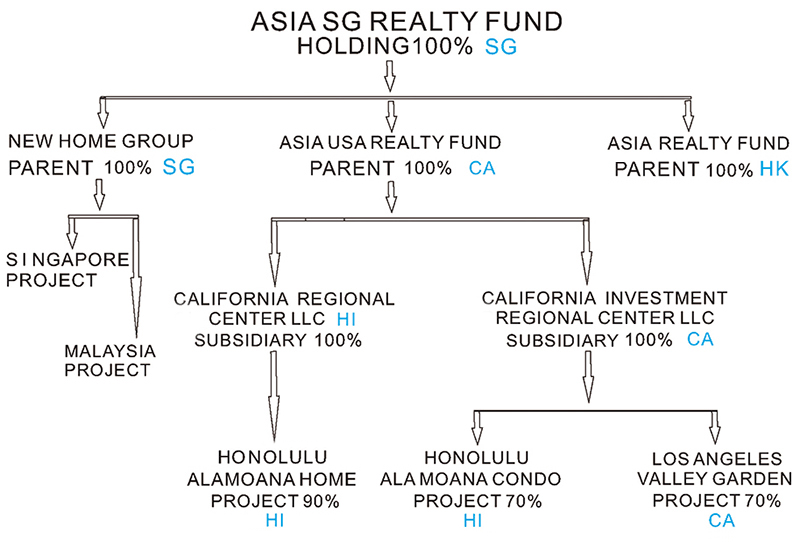 Singapore Headquarters Holding Company - Organization Chart Description:
1, Asia Singapore Real Estate Fund, is the headquarters holding company. WWW.ASIA-FUND.COM
2, The Singapore headquarters holds 3 to the parent company:
NEW HOME GROUP Singapore Market. WWW.NEW99HOME.COM
ASIA USA REALTY FUND US market.
ASIA HK REALTY FUND Hong Kong market.
3, Three holding subsidiaries of the parent company:
The parent company in the US market currently has two subsidiaries, namely, the California Regional Center, which is registered in Hawaii. The California Investment Regional Center is registered in California.
The parent company of the Singapore market, NEW HOME GROUP, will invest in real estate projects in Singapore and Malaysia in the future.
The parent company in the Hong Kong market will invest in real estate development projects in Hong Kong in the future.
4, Project company:
LA VALLEY GARDEN Project Company. WWW.USAFW.COM
ALA MOANA CONDO Project Company. WWW.ALAMOANA-CONDO.COM
ALA MOANA HOME Project Company. WWW.ALAMOANA-HOME.COM
5, the company organization:
Singapore headquarters company is like the federal government
The parent company is like the state government.
Subsidiaries are like county governments.
The project company is like a city government.